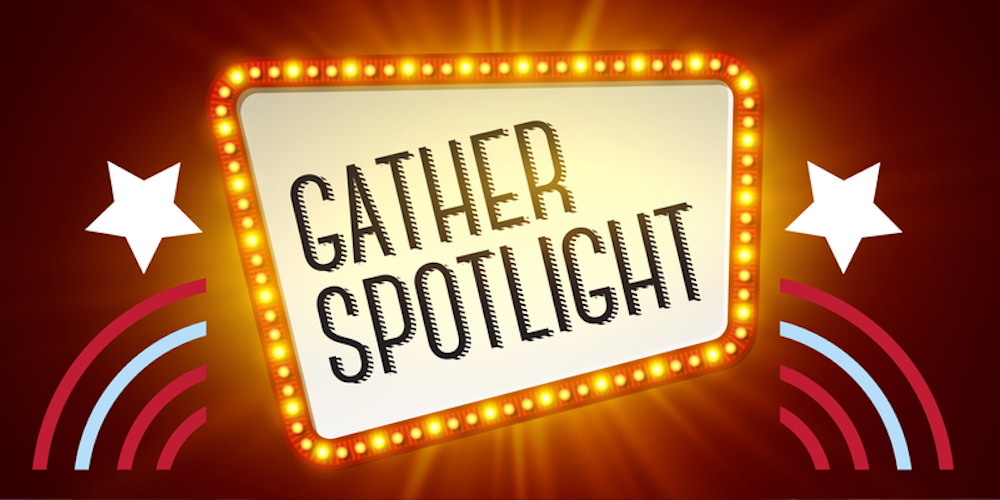 It's Thursday and that means Show and Tell! It's our chance to show off what we've been working on! Today we'd like to talk about the monthly presentations we've been attending/reporting on at our coworking office space. We work at Gather and we LOVE it here! Among the many perks and quirks and bonuses that came with working out of this wonderful space, one of the -coolest- things that Gather offers is a chance to attend their monthly Spotlight series. Gather Spotlight is "an event platform that offers the RVA business community a glimpse of the talented companies that make up Gather's coworking collective."
It is a) tons o' fun, b) very informative, c) a networking BONANZA, and d) there's complimentary lunch provided by Christopher's Runaway Gourmay and, as always, free Black Hand coffee! If you work at Gather or have considered working at Gather or you're a human being that likes learning about badass local businesses and you also happen to enjoy eating free, delicious food… Well, be sure to attend a Gather Spotlight!! They are always the THIRD Thursday of every month, and they start at noon at Gather's downtown location, 409 E Main St, Richmond VA 23219. 
Now… what is The Great Big Everything's involvement with the Spotlight series? Well, we are more than happy to attend and listen and learn, but, we also document each event with photography and record our highlights and, after the event, provide a little professional background on each presenter. This is all hosted on Gather's blog page, gatherrva.com/en/blog/. This is just one of the many communication services we offer; if you'd like us to personally curate your businesses blog page and fill it with content, we are here for you!
That being said, here are some of our favorite presentations from last year to present.
In no particular order!
1) Doug and Polly White of Whitestone Partners


According to Whitestone's website,
"Whitestone Partners is a full-service small-business consulting firm. We work with clients across all industries and have extensive experience in real estate, construction, the trades, professional services, health care, non-profits, advertising and marketing, social media, public relations, manufacturing and financial services. We help businesses that want to get to the next level as well as those needing to get back on track. We don't have a specific program or a one-size-fits-all process. Instead, we meet you at your point of need, develop solutions to fit your business and stand by you as we implement them together. This approach is what makes Whitestone Partners unique and so successful."
But they do so much more than that! According to their website, dougandpolly.com, "Through our blog, books and online courses, we teach entrepreneurs the skills and knowledge they need to grow and run a successful business. With more than 250 free articles and tools, we want to be your first choice resource for SMB knowledge." Additionally, We have spoken to hundreds of groups and thousands of business owners on subjects ranging from business growth to working with employees, from hiring and delegation to strategy. Call us today to book us to speak to your organization"
They shared some fantastic stories and imparted words of wisdom to anybody — whether you work in consultation or any other field. Thank you so much, Doug and Polly!
2) Mark Tavares of Project Green!
An organic-based lawn care company with a dedication to sustainability, community, and quality. In Mark's words, "An organic approach to a healthy lawn." With such an eco-centric focus look at how much they've done to reduce the use of synthetic chemicals in the Richmond area:
Reduction in Synthetic Chemicals 2016:
7,307 lbs of nitrogen
963 lbs of potash
2,406 gallons of pesticide
What struck us as most impressive was Mark's description of his company's dedication to using only organic, environmentally–friendly fertilizer– they procure gallons of "compost tea" made weekly– a "compost tea concentrated in a patent pending method providing indigenous microorganisms- bacteria, fungi, protozoa and nematodes- that fosters a biologically diverse ecosystem."
Check them out, get some greener grass and save the planet at the same time!
3) TJ Rinoski of Skinny Dipper Magazine

TJ also works with Whitestone Partners — this is how he came to be a member of Gather's coworking collective. But his side project? His "midnight oil" (as he has referred to it 1,000,000 times)? His side gig is Skinny Dipper magazine. An "independent print magazine at the intersection of art and adventure." Successfully funded by Kickstarter and due to drop its first issue in THREE days, Gather members are so excited to get their hands on a copy!
From their Kickstarter,
"We find meaning in pursuing raw experiences between people, ideas, places, and things. Skinny Dipper presents these experiences in a printed art form as a reminder to keep chasing down what matters. This magazine is our memory and our metronome, an artifact and an activation.
We are putting this in print because print encourages mindfulness in both production and consumption. Print is heavy in your hands and creates connection. We hope that readers share and cherish each issue.
Lay this magazine down on your coffee table, because it shines on heavy, coated paper and is meticulously designed. Take it in your pack because you want to show it to your friends but can't fit 8.5 x 11 inches in your pocket. Bring it on the plane because it's 114 pages, looks better than window shades, and provides for a surprisingly elevated read."
4) Julia Warren of Celebrate! RVA

For those of you unfamiliar with celebrate RVA!'s mission, it is thus: "To give disadvantaged children in Richmond, Virginia a memorable birthday celebration in a safe and fun environment." That is taken straight from their website, as is this: "We believe that joy from something as simple as a birthday party can transform a child and impact their lives in countless ways. All children deserve to experience joy and be given the opportunity to celebrate their special day, no matter their circumstances. At celebrate! RVA we partner with Richmond City Public Schools and Safe Harbor to provide children in need with a celebration all their own. We bring all the cake, activities and decorations necessary to throw a special celebration that's fun for everyone and filled with memories to last."
5) Caroline Fox and Suzi Rice Kinahan of Next Tuesday Podcast

Not only a dynamic duo, they are also an unexpected pairing in action. From their website, "What do an attorney and a holistic health professional have in common? A lot, as it turns out."
"Caroline and Suzi were sorority sisters in college (what seems like another life), but became friends while "adulting" in Richmond, VA.  Caroline, a type-A business and intellectual property attorney, forms and counsels small businesses for a living.  Suzi runs her own small business (raw bliss co), and counsels folks into realizing their highest soul-driven purpose via a variety of holistic practices and fooducation."  Somehow, in their free time (free time?!) they manage to record, edit and produce a very well received podcast highlighting badass women in the local community (one day they'll be highlighting badass women all over the world!) Both very intelligent, well-spoken, filled with spunk and enthusiasm — one can only imagine how much fun their podcasts must be! Check out their episodes here.
THANKS FOR JOINING US FOLKS! Be sure to check out the Spotlight series. Again, it's the THIRD Thursday of every month. And don't forget… Catered complimentary Christopher's!